"We won't be your first job, but we could be your last" – Steve Bankler
We are currently seeking a Certified Public Accountant who is interested in refining their professional career and improving their work/life balance. Our firm offers a family friendly environment promoting a less than 40-hour work week with Friday afternoons off.
Benefits
Health Insurance
Simple IRA
Close at Noon on Fridays, year round
Hot Lunches provided during busy times of the year.
Tickets available for Entertainment (Majestic & Tobin Theaters), Sports (UTSA Football & Spurs), etc.
Several dinner celebrations each year
Monthly staff "night out" with appetizers
Employee Bonus Programs
Qualifications & Requirements
CPA License required
Proficient in Lacerte (or other Professional Tax software), QuickBooks, Microsoft Office, and Data Bases.
Exceptional organizational skills and aptitude for numbers
Outstanding communication skills, written and verbal
Able to thrive in deadline-driven e

nvironment
We Are Looking For Outstanding Individuals To Join Our Team!
Steven Bankler CPA is a niche public accounting firm with expertise in family-owned and closely held businesses. Whether for corporations or individuals, our tax returns are nearly all affiliated with business owners. We continue to find ways to enhance and increase our clients' bottom line – from tax savings and asset protection strategies, to income generating and cost reduction advice.
Asset Protection
IRS Negotiation and Representation
Sophisticated Tax and Business Financial Planning
Business Negotiation and Representation
SUCCESSion Planning
Exit Planning
Estate Tax Planning
Forensic Investigative Accounting
Expert Witness (qualified by state and federal courts)
Litigation Support
Steven Bankler, CPA, Ltd. has been named one of this year's Best Places to Work by the San Antonio Business Journal. This award recognizes companies for raising the bar in providing a work environment that promotes job satisfaction and productivity. We extend our appreciation to our entire team for their consistent dedication and devotion to our valued clients!
1. Complete/Submit the Form
HERE'S WHY
At least four very good reasons 🙂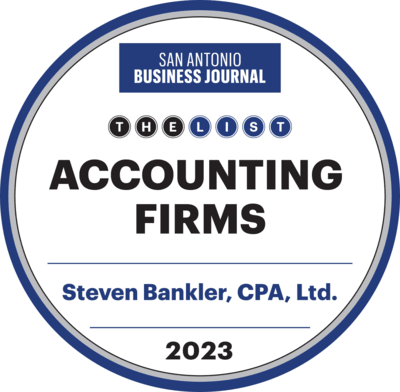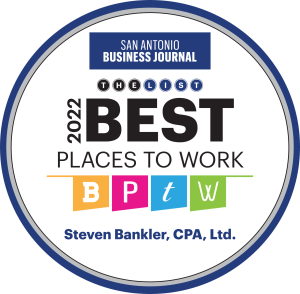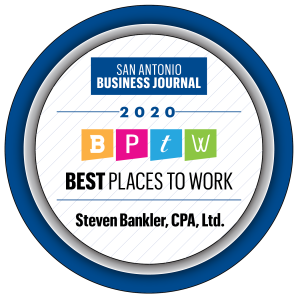 "As clients of his for more than 25 years, my parents recommended Steve Bankler. In the entertainment industry where I work, there are a lot of intricacies in the tax laws and codes that Steve has been brilliant utilizing to my advantage. My income increased significantly over the past two years and Steve maximized my tax deductions all at a price far lower than a business manager, which most people in my industry use, would have charged. Most importantly, I frequently work outside the United States and earn income from all over the world. Steve has connections with accountants in all the countries where I work, which ensures all the varying tax laws are followed and complied with. Even though I live in Los Angeles, I use Steve for all my tax needs. I can't recommend him strongly enough."